Primary tabs
Antonio Bicchi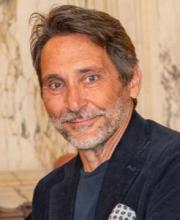 Antonio Bicchi is Professor of Robotics at the University of Pisa, and Senior Scientist at the Italian Institute of Technology in Genoa. He graduated from the University of Bologna in 1988 and was a postdoc scholar at M.I.T.  Artificial Intelligence lab. He teaches  Robotics and Control Systems in the Department of Information Engineering  (DII) of the University of Pisa. He leads the Robotics Group at the  Research Center "E. Piaggio'' of the University of Pisa since 1990. He is the head of the SoftRobotics Lab for Human Cooperation and Rehabilitation at IIT in Genoa. Since 2013 he serves ad Adjunct Professor at the School of Biological and Health Systems Engineering of Arizona State University.
From January, 2023, he is the Editor in Chief of the International Journal of Robotics Reserach (IJRR), the first and one of the top scientific journals in Robotics. He has been the founding Editor-in-Chief of the IEEE Robotics and Automation Letters  (2015-2019), which rapidly became the largest Robotics journal by number of submissions. He has organized the first WorldHaptics Conference (2005), today the premier conference in the field. He served as president of SIDRA, the scientific society of Automatic Control. He is a founder and President of the Italian Institute of Robotics and Intelligent Machines (I-RIM) (since 2019), 

His main research interests are in Robotics, Haptics, and Control Systems. He has published more than 500 papers on international journals, books, and refereed conferences. For his fundamental research on human and robot hands the European Research Council awarded him with several grants, including an Advanced Grant in 2012, an ongoing Synergy Grant in 2019, and three Proof-of-Concept grants. He is the scientific coordinator of the JOiiNT Lab, an advanced tech transfer lab with leading-edge industries in Bergamo, Italy. He is the recipient of several awards and honors.
---
Surveys:
Soft Robots, C Della Santina, MG Catalano, A Bicchi - Springer Encyclopedia of Robotics, 2020
A Century of Artificial Hands, a critical review of design principles, control, applications in the last 106 years with 252 references.
---