Wearable Monitoring Systems
NEWS
Call for papers: journal "Sensors" (MDPI - ISSN 1424-8220) - Special issue on "Soft Sensors for Motion Capture and Analysis"
Call for papers: journal "Technologies" (MDPI - ISSN 2227-7080) - Special issue on "Reviews and Advances in Internet of Things Technologies"
Research activities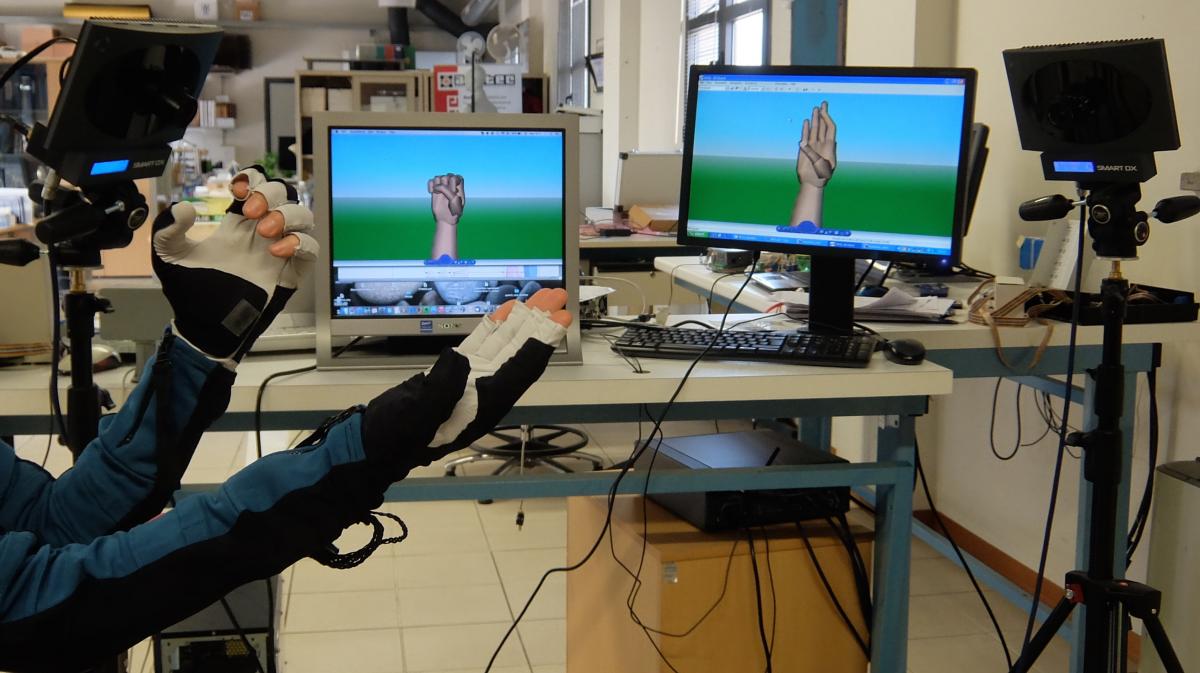 Development of Wearable Technologies for monitoring of physiological, environmental and activity parameters of people performing activities of daily living
Innovative smart textile based sensing technologies
Wearable electronics and micro-sensors
Smart Textile sensing​
​Gesture/activity classification and Motion capture/analysis through textile-based deformation sensors and goniometers (integrated in gloves, shirts etc..)
Innnovative smart sensing materials such as Conductive Elastomers (CE) and Knitted piezoresistive fabrics (KPF)
Piezo-resistive effects: a fabric deformation can be related to a sensor electrical resistance variation
Elasticity, lightness, good comfort for the user
​Applications: rehabilitation, sport and human machine interaction

​Wearable electronics and micro-sensors 
​Unobtrusive Physiological and behavioural wearable acquisition systems through the development of an all-in-one solution integrated in a chest band for stress correlates detection
ECG, breathing and human activity  monitoring
Development of a sensing glove for gesture and emotional states sensing
Hand orientation, finger position and electrodermal activity
Hand prosthesic 
Innovative control scheme based on traditional EMG fused with force and inertial sensing

Data fusion
​Inertial and phsysiological sensors for accurate human activity classification
Enhancing the performance of upper limb gesture reconstruction through sensory fusion between inertial and textile-based deformation sensors
Ongoing and past projects
Training and monitoring of daily-life physical INTERACTION with the environment after stroke, European Project FP7-ICT-2011-7-287351, November 2011 - October 2014
The Collective Experience of Empathic Data Systems (CEEDS), European Project (IP) FP7-ICT-2009-5-258749, September 2010 - August 2014
MANOROBOTICA, national project funded by regione Toscana in the Por Creo 2007-2013 frame.  Subcontractor of Fabrica Machinale S.r.l for the development of innovative sensing interfaces for the control of hand prosthesis. The project was selected as one of the 24 eccelent regional projects on a total of 2536
Una nuova generazione di tecnologie interattive personali per facilitare l'apprendimento di compiti motori e per la neuroriabilitazione, progetto PRIN2009 
Bio custom shoes toward therapeutic technology (BCS-TTEC), national project funded by regione Toscana in the Por Creo 2007-2013 frame.  Subcontractor of Fabrica Machinale S.r.l for the development of innovative sensing technologies for the integration in orthopedic shoes and toward the design of personalized footwear
Interreality in the Management and Treatment of Stress-Related Disorders (INTERSTRESS), European Project FP7-ICT-2009-4-247685, March 2010 - February 2013
Unobtrusive authentication using activity related and soft biometrics (ACTIBIO), European Project FP7-ICT-2007.1.4-215372, March 2008 - February 2011
Coordination action for enhancing the breakthhrough of intelligent textile systems (SYSTEX), European Project FP7-ICT-2007-224386, May 2008 - April 2011

Perceptive Spaces Promoting independent Aging (PERSONA), European Project (IP) ST-2005-2.6.2-045459, January 2007 -June 2010

Protection e-Textiles: MicroNanoStructured fibre systems for Emergency-Disaster Wear (

ProeTEX

), European Project (IP) FP6-2004-IST-4-026987, February 2006 - July 2010

MyHeart-Fighting cardio-vascular diseases by preventive lifestyle & early diagnosis (MyHeart), European Project (IP) FP6-IST-2002-507816, January 2004-December 2009
​
Team
Alessandro Tognetti (coordinator), Federico Lorussi, Nicola Carbonaro, Irene Lucchesi, Danilo De Rossi
Collaborations
XSens (Olanda), University of Twente (Olanda), SMPP - Rehabilitation Institute of Chicago (USA), Macquarie University - Virtual Reality Lab (Australia), Scienzia Machinale group (Italia), SPECS - Universitat Pompeu Fabra (Spagna), University of Augsburg (Germania), Università di Cagliari, Università di Firenze, Università di Pavia, Universidad Politécnica de Madrid (Spagna), Università Cattolica di Milano,  Applied Technology for Neuro-Psychology Laboratory - Istituto Auxologico Italiano, Smartex srl (Italia), Roessingh Research and Development (Olanda), Autonomous Systems and Adv. Robotics Research Centre - University of Salford (Regno Unito), The Motion Analysis Laboratory – Spaulding Rehabilitation Hospital (USA), University of Valladolid - Engineering School (Spagna), CSEM (Svizzera), CNR - Istituto di Fisiologia Clinica, Diadora, Eucentre (Pavia), Istituto Italiano Tecnologia (Genova), Cluster of Excellence Cognitive Interaction Technology - Bielefeld University (Germania).