Primary tabs
Paolo Salaris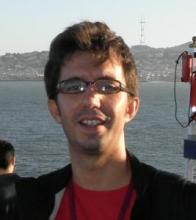 Paolo Salaris was born in Siena (Tuscany, Italy) in 1979. He received his Degree in Electrical Engineering from the University of Pisa in 2007. He got the Doctoral degree in Robotics, Automation and Bioengineering at the Research Center "E.Piaggio" of the University of Pisa in June 2011 (advisor Antonio Bicchi). He has been Visiting Scholar at Beckman Institute for Advanced Science and Technology, University of Illinois, Urbana-Champaign (US-IL) from March to October 2009, working with Seth Hutchinson. He has been a PostDoc at the Research Center "E.Piaggio" from June 2011 to January 2014, working within the robotics group headed by Antonio Bicchi and at LAAS-CNRS in Toulouse within the Gepetto Team from February 2014 to July 2015. He spent few months at College de France, Paris, in 2013, working with Jean-Paul Laumond.
From October 2015 to August 2019 he has been an Inria researcher (CRCN) at Inria Sophia Antipolis-Méditerranée, France, initially and until December 2017 within the Lagadic Team  and then from January 2018 to August 2019 within the CHORALE Team.
He currently is Assistant Professor (RTD-B) at the Department of Information Engineering (DII) and at the Research Centre "E. Piaggio" of the Università di Pisa.
He currently is the PI of the DARKO EU Project (2021-2024).
Since January 2021, he also is coordinator of the Advanced Manufacturing Lab within the framework of the CrossLab project on Innovation for Industry 4.0 (Departments of Excellence), funded by the Italian Ministry of Education, and Research (MIUR).
My research interests include optimal control and path planning for robot with limited sensory systems, visual servoing, map building of indoor and outdoor complex environments, observability and controllability analysis, optimal sensing design, optimal estimation and active sensing control, action-perception coupling sensors-based feedback control and planning. Moreover I am also interested in optimal control and planning for compliant manipulators for energy efficiency and performance enhancement in task such as picking and placing, throwing, hitting.
Winner of the IEEE IROS 2012 JTCF Novel Technology Paper Award for the paper: M. Bianchi, P. Salaris, and A. Bicchi, "Synergy-based optimal design of hand pose sensing," in IEEE/RSJ Inter- national Conference of Intelligent Robots and Systems, (Vilamoura, Algarve, Portugal), October 7 – 12, 2012.