Primary tabs
Andrea Caiti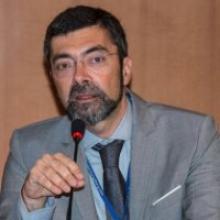 Centro Piaggio & Dept. Information Engineering, University of Pisa, Largo Lazzarino 2
Tel.: +39 050 2217328 - Mobile: +39 340 9173278 - e-mail: andrea.caiti@unipi.it
office: Dept. Information Engineering, main Engineering building, Largo Lazzarino 1, 6th floor
Andrea Caiti was born in Naples in 1963. He obtained the Master Degree in Electronics Engineering from the University of Genova in 1988. Since 2007 he is Full Professor of Automatica (Systems and Control) at the University of Pisa, Italy. Before, he has been a staff Scientist at the NATO SACLANT Undersea Res. Ctr. (currently CMRE), La Spezia, Italy (1989-94),Adjunct Professor at the University of Genova (1995-96), Assistant Professor at the University of Pisa (1996-98) and Associate professor at the Universities of Siena (1998-01) and Pisa (2001-07). He teaches the courses of Automatic Control, System Identification, Underwater Systems. 
He is coordinator of the Master Degree course in Robotics and Automation Engineering at the University of Pisa since 2015. Since 2018 he is coordinator of the Ph.D. course in Smart Industry, jointly held by the Universities of Pisa, Florence and Siena. He has been the coordinator of the Ph.D. Programme in Automation Robotics and Bioengineering of the University of Pisa from 2008 until 2015.
In the period 2001-08 he has been Director of the Italian Interuniversity Research Centre on Integrated Systems for the Marine Environment (ISME). Since November 1, 2015 to January 2017 he has been Director of Centro "E.Piaggio", University of Pisa.
His scientific interests are in the field of marine robotics and underwater acoustics, identification and estimation of nonlinear systems, system theory. He is/has been responsible of several research projects funded by the European Union or by National Agencies. He has edited 5 research books, and he has published more than 100 refereed papers in international journals or as book chapters, and  more than 200 papers in conference proceedings.
He is Fellow of IEEE, participating in the Control System, Oceanic Engineering and Robotics&AutomationSocieties. 
Courses
Courses Information, 1st semester, yr. 2018-19:
Identification of Uncertain Systems: Tuesday 10.30 - 12.30 A21; 13.30 - 16.30, A22; Wednesday, 10.30 - 12.30 C41; Tursday 13.30 - 16.30 A12
Tutoring: Tuesday, 17.30 - 19.00, office