Primary tabs
Domenico Mura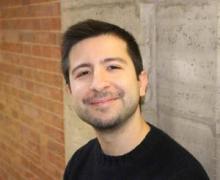 Domenico Mura received the Bachelor Laurea Degree in Biomedical Engineer form the University of Pisa in 2014, with a thesis work on a robotic platform for acute post-stroke early rehabilitation at the Biorobotics Institute of Scuola Superiore Sant'Anna, and the Master Laurea Degree in Robotics and Automation Engineering at the University of Pisa with a master thesis on underwater robotic fine manipulation.
From September 2017 he collaborates with the Research Center E. Piaggio, where he is currently a PhD student in Information Engineering. His current research interests consist in sensorization of soft robotic
devices and in underwater robotic manipulation for archaeological/biological tasks.