In-vitro models & cell imaging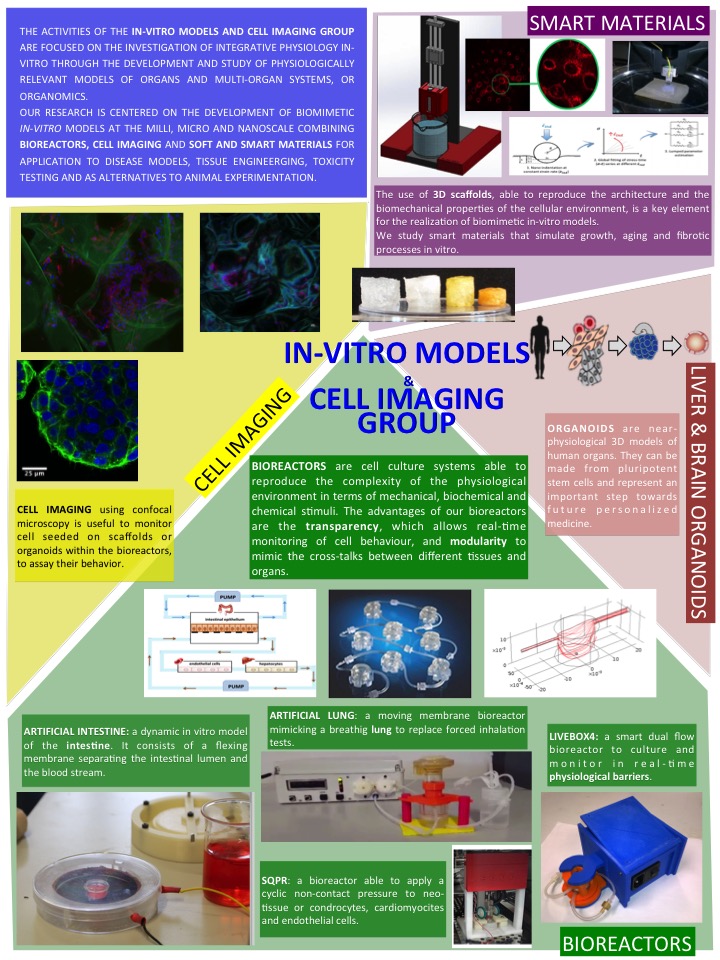 Our research is centered on the development of physiologically relevant in-vitro models at the milli, micro and nanoscale for application to disease models, tissue engineering, toxicity testing, and as alternatives to animal experimentation, combining:
Research Group 
Arti AHLUWALIA,  full professor
Giorgio MATTEI, assistant professor
Chiara MAGLIARO, Post-Doc Researcher
Daniele POLI, Post-Doc Researcher
Alejandro CALLARA, PhD student
Ludovica CACOPARDO, PhD Student
Licia DI PIETRO, PhD Student
Joana COSTA, PhD Student
Roberta NOSSA, PhD Student
Research Projects
MICACT: a MSCA-ITN project for the development of EAP - Electro-Active Polymers - micro-actuators for advanced miniaturized devices.
MALI: Development of a breathing lung to replace forced inhalation tests (founded by LAV - Lega Anti Vivisezione).
PATROLS: Development of advanced safety assessment tools for improved prediction of the adverse effects caused by chronic ENM - Engineered Nano-Materials - exposure in human and environmental systems.
ORGANOMICS: Integration of induced pluripotent stem cells derived organoids with micro-and nano-technologies.
Spin Offs and Start-ups
Kirkstall Ltd UK has licensed several patents from the group.
IVTech is a spin-off of University of Pisa dedicated to the commercialisation of in-vitro technologies to replace animal tests.
Contact info:
Research Center "E. Piaggio" - University of Pisa
Via Diotisalvi, 2
56122 Pisa, Italy
Phone +39 050 2217062
email: arti.ahluwalia@unipi.it