In-vitro models & cell imaging
The activities of the In Vitro Models Group are focused on the investigation of integrative physiology in-vitro through the development and study of physiologically relevant models of organs and multi-organ systems, or Organomics. 
Our research is centered on the development of physiologically relevant in-vitro models at the milli, micro and nanoscale, combining Bioreactors, Cell Imaging and Soft and Smart Materials for application to disease models, tissue engineering, toxicity testing, and as alternatives to animal experimentation.    
Research Group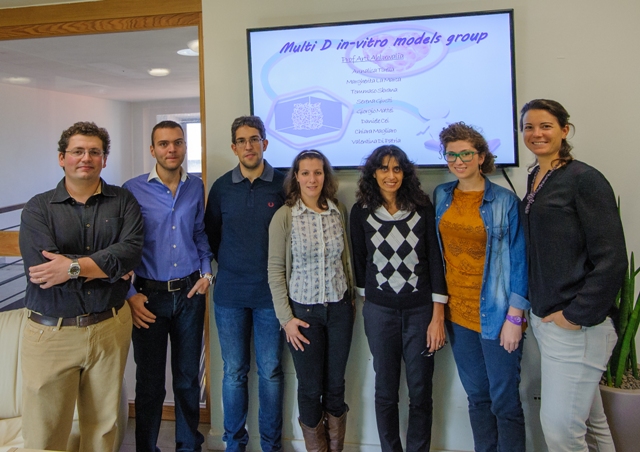 T. Sbrana, G. Mattei, D. Cei, S. Giusti, Prof. A. Ahluwalia, C. Magliaro, 
Missing:  J. Costa, A. Callara
The NanoBioscopy Lab
The NanoBioscopy Lab, jointly run by the Research Center E. Piaggio and the Department of Biology, is dedicated to the engineeering and imaging of microenvironments for the study of physiological and disease models
Research Projects
ReLiver: bottom up reconstruction of hepatic tissue
InLiveTox: multi organ model for the detection of nanomaterial toxicity
MIND: acutated environments for multi-dimensional models of ageing 
BioAMD: study of anti-ageing nanomaterials in biomimetic ocular environments
OS4BME: higher education in Africa
Cellular Beacons: Development of nano and cell based sensors for micro environment monitoring (collaborative project with KUT, Taiwan)
MALI: Development of a breathing lung to replace forced inhalation tests
Spin Offs and Start-ups
Kirkstall Ltd UK has licensed several patents from the group.
IVTech is a spin-off of University of Pisa dedicated to the commercialisation of in-vitro technologies to replace animal tests.
Contact info:
School of Engineering - University of Pisa
Via Diotisalvi, 2
56122 Pisa, Italy
Phone +39 050 2217062
email: arti.ahluwalia@unipi.it