Primary tabs
Ludovica Cacopardo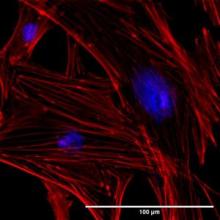 Post Doc Researcher
Centro di Ricerca "E.Piaggio"
Università di Pisa
 contacts: ludovica.cacopardo@ing.unipi.it
Ludovica received her master degree in Biomedical Engineering in Pisa (2015) and completed the PhD program in Information Engineering (Pisa) in May 2019 with a thesis entitled 'Advanced in-vitro models with integrated sensing for real-time monitoring of electrical and mechanical properties of cellular constructs'. 

Current research projects:
study of viscoelastic mechanotransduction using engineered hydrogels and adipose-derived mesenchymal stem cells
fabrication of structured active intestinal and alveolar spheroids using core-shell microbeads and magneto-responsive materials
desing of an acinus-on-a-plate compatible with 3D physiological breathing
Recent Publications:
L. Cacopardo, N. Guazzelli, A. Ahluwalia. Characterising and engineering biomimetic materials for viscoelastic mechanotransduction studies. Tissue Engineering – Part B, 2021.
L. Cacopardo, A. Ahluwalia. Engineering and Monitoring 3D Cell Constructs with Time-Evolving Viscoelasticity for the Study of Liver Fibrosis In Vitro. Bioengineering, 2021, 8 (8), 106.
A. Mastrorocco, L. Cacopardo, D. Lamanna, L. Temerario, G. Brunetti, A. Carluccio, D. Robbe, M. Dell'Aquila. Bioengineering Approaches to Improve In Vitro Performance of Prepubertal Lamb Oocytes. Cells, 2021,10 (6), 1458.
R. Nossa, J. Costa, L. Cacopardo, A. Ahluwalia. Breathing in vitro: Designs and applications of engineered lung models.  Journal of Tissue Engineering, 2021, 12.
A. Mastrorocco, L. Cacopardo, N. Martino, D. Fanelli, F. Camillo, E. Ciani, B. Roelen, A. Ahluwalia, M. Dell'Aquila. One-step automated bioprinting-based method for cumulus-oocyte complex microencapsulation for 3D in vitro maturation. PloS one, 2020, vol. 15, p. e0238812.
J Costa, V Almonti, L Cacopardo, D Poli, S Rapposelli, A Ahluwalia. Investigating Curcumin/Intestinal Epithelium Interaction in a Millifluidic Bioreactor. Bioengineering, 2020, vol. 7, p.100
G. Mattei and L. Cacopardo, A. Ahluwalia. Engineering gels with time-evolving viscoelasticity. Materials, 2020
L. Cacopardo, G. Mattei, A. Ahluwalia. A new load-controlled testing method for viscoelastic characterisation through stress-rate measurements. Materialia, 2019, 100552.
L. Cacopardo, J. Costa, S. Giusti, L.A. Buoncompagni, S. Meucci, A Corti, G. Mattei, A. Ahluwalia. Real-time cellular impedance monitoring and imaging of biological barriers in a dual-flow membrane bioreactor. Biosensors and Bioelectronics, 2019, vol. 140, p.111340
L. Cacopardo, N. Guazzelli., R. Nossa, G. Mattei and A. Ahluwalia: 'Engineering hydrogel viscoelasticity' Journal of Mechanical Behaviour of Biomedical Materials, 2019, vol. 89, pp. 162-167.
Related Topics:
Teaching: