Primary tabs
Franco Angelini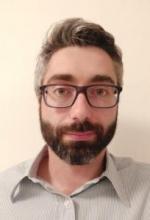 Franco Angelini is a Post-Doc researcher at the Research Center "E. Piaggio", University di Pisa.

He received the B.S degree in computer engineering and the M.S. cum laude in automation and robotics engineering from the University of Pisa. University of Pisa granted him also a Ph.D. degree (cum laude) in Information Engineering in 2020 with the grant "Soft Robotics for Human Cooperation and Rehabilitation (SoftBot)", Italian Institute of Technology (IIT).

In 2018 he spent a period of his PhD abroad, at the Institute for Perception, Action, and Behaviour (IPAB), School of Informatics, University of Edinburgh (UK), under the supervision of Professor Sethu Vijayakumar. During this period, he worked on the planning and regulation of the impedance of the quadrupedal robot ANYmal.
 
His research interests include design and control of soft robotic systems, impedance control and regulation, and robotic grasping.  
Link scholar: https://scholar.google.it/citations?user=QWnunR0AAAAJ&hl=en
Link Scopus: https://www.scopus.com/authid/detail.uri?authorId=7005945672